Version française ici
I paint the portrait of your pet !
---
Each animal is unique and unlike any other ! I faithfully paint your companion : its fur, its manner, its look.
---
How to order a portrait of your companion ?
First of all, write to me via the Contact page to let me know your request!
I will answer you in turn by email. We can then discuss your project (size of the painting, technique, deadline …), and you can send me several beautiful photos of your animal. One of them will serve as a model for the final drawing.
If you want to order, I will send you an invoice and RIB for payment. Once done, I start your painting !
I show you the first step of the drawing to validate the framing and the background color, before finishing.
If you like the result, I will send you your picture ! Of course, I can make changes before sending, within reason.
All you have to do is wait for your painting to arrive by post !
After receipt, you can leave your review at the bottom of this page or Facebook. A photo of your animal with its portrait will be welcome !

How is it done?
I offer two different techniques :
Digital painting : realized with the graphic palette on computer, the portrait of your animal is then printed on a beautiful thick support.
Oil painting : a real traditional painting. This very old technique offers a warm and authentic result !
What is the price of a portrait?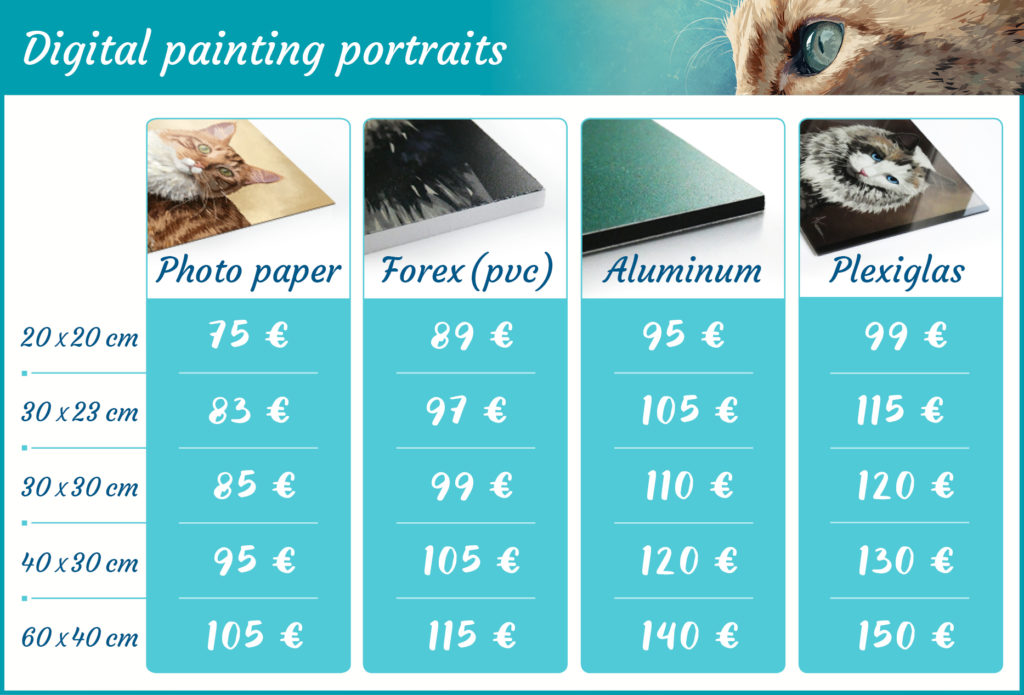 Photo paper : matte or glossy finish. A beautiful frame will sublimate your animal.
Forex : 5 mm thick pvc panel.
Aluminum : 3 mm thick panel with aluminum foils. Matte finish. Strong and resistant.
Plexiglas : 3 mm thick acrylic glass panel. Shiny and modern, with a very beautiful color rendering !
Larger formats are available on request.
You can find out on this page the shipping costs according to your country.
I paint the bust of the animal: its head and its neck. If you want it in full, it's possible ! In this case, for it to be well enhanced, I will advise to paint it in a larger format, possibly exceeding what is proposed in the price list. The supplement for a whole animal is 49 €, to which you will have to add additional printing costs for a larger format. Do not hesitate to ask me for a simulation, I can answer you precisely.
Do you want several animals on your picture ? It's possible ! The supplement for each animal is 70 € (possible from the 30 x 30 cm format).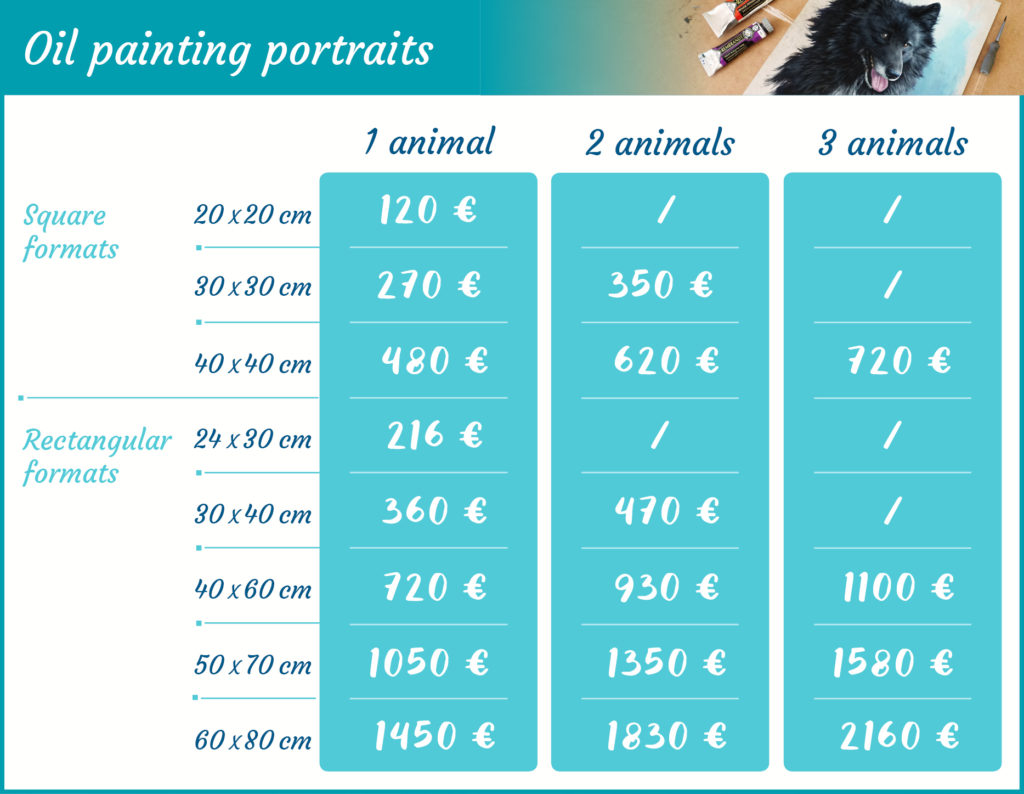 Professional grade oils on a 3 mm thick flat canvas. A beautiful frame will sublimate your painting !
You can find out on this page the shipping costs according to your country.
How are the prices set ?
The price of an original drawing is set mainly according to the time required for its completion. The portraits that I offer you require several hours, even days, of work. I also take the time to advise you: illustration is my job.
The cost of the material is also taken into account. This is a professional grade material, which guarantees the longevity of the picture.
Each painting is unique and personalized according to your tastes; such a drawing will always be more expensive than a drawing made to be printed in series.
How quickly is the picture received ?
Digital paintings : you will receive your painting at home within 15 to 20 days of receipt of payment and necessary photos.
Oil paintings : the minimum wainting time is 3 weeks. It varies depending on the size of the painting and the number of animals to be painted. In addition, this technique requires a quite long drying time. We can agree on a specific deadline.
However, if you had a specific request in terms of deadline, please let me know !
Other details
All the portraits I do are unique pieces. I do not reproduce them to sell them to other clients, so it guarantees that you have a unique artwork. They can only be used in the context of my communication, for example with a view to being published on my social networks.
Modifications are no longer possible once the drawing has been validated and sent. Exchanges or refunds are not accepted. However, if you have any problem, I invite you to contact me.
These paintings are works subject to copyright. They are intended for personal use only and may not be used for other purposes. In accordance with the French Intellectual Property Code on which they depend (art. L.121-1 to L.121-9), any use not mentioned in writing by the author is prohibited.
---
• Contact me for a portrait ! •
---
Pets already immortalized